The following is a part of a series on "Everything You Ever Needed to Know about Dahlonega's Outdoor Sports."


The Benton MacKaye Trail
The opportunities for hiking, backpacking, and trailrunning in the Dahlonega area are much more pervasive than those for mountain biking.
The Appalachian Trail
starts just west of town near Spring Mountain and runs across the map north of town and continues northeast through the state. In addition, the Benton-Mackaye trail also begins near Springer Mountain and runs almost due north from there. In addition to those two famous trails, there is a plethora of hiking-only trails in nearby state parks, wilderness areas, and just out in the National Forest north of Dahlonega. I really don't know how many
hundreds
of miles of trails there are to be hiked or run in the area, but the system is immense!

Some of the best scenery and most beautiful forests in the area are accessible only by foot. Even if you are a die-hard mountain biker and don't generally enjoy walking anywhere (like myself), I still recommend that you get off your bike at least once in a while and check out the other areas accessed by foot.

Popular day hikes near Dahlonega include Blood Mountain (pictured here), the looped trails near the Springer Mountain trailhead (the southern terminus of the A.T.), and Amicalola Falls State Park.

Check out this map for more info: National Geographic Trails Illustrated #777, or buy it here.


A rainy day on the Appalachian Trail


This Just In: Dahlonega Has Been Named an Official "Appalachian Trail Community"
According to this week's edition of the local newspaper, The Dahlonega Nugget, Dahlonega has just been named an official Appalachian Trail community. According to the article, this is a rather high honor which is bestowed by the Appalachian Trail Conservancy, the volunteer organization "dedicated to the preservation and management of the natural, scenic, historic, and cultural resources associated with the A.T." Dahlonega is "only the fifth city/county to receive the designation" anywhere along the entire 2,180 length of this behemoth of a trail. (Hall 10A)

If you needed any more evidence in order to be assured of the hiking/backpacking culture of Dahlonega, this should hopefully satisfy your need!


Photos
I could drone on and on about the immensity of the foot-travel-only trail network and the beauty of the area, but I thought that it might be better to just post some pictures that I've personally taken while hiking in the area:


A Fall Hike up Blood Mountain
View from the top of Blood Mountain
Much of the top of Blood Mountain is granite slickrock
Mountain Laurel in bloom on the Benton Mackaye Trail
A rainy summer day in the forest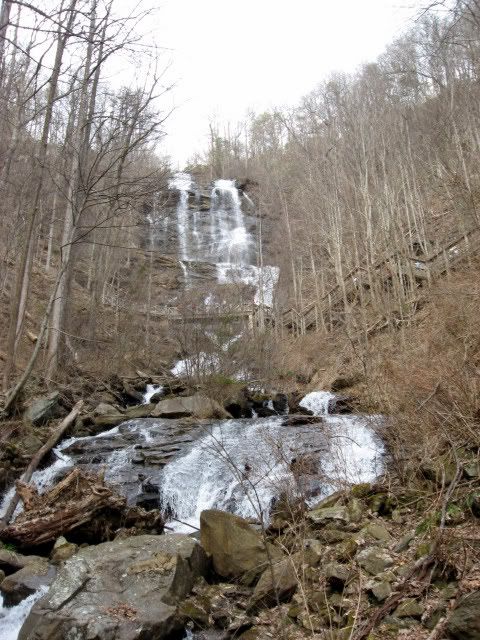 Amicalola Falls