The following is an update which I have added to the Montgomery Creek Loop trail review.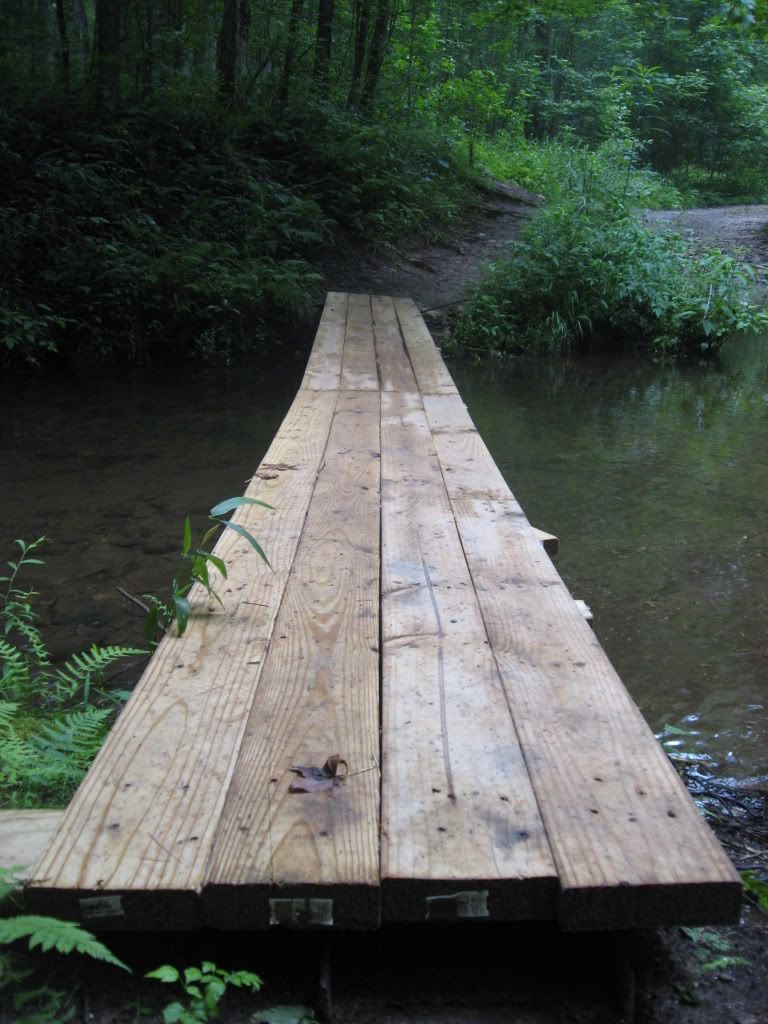 While not nearly the most interesting or challenging trail in the Bull/Jake Mountain Trail System, Montgomery Creek has certainly been the most dynamic lately.

New Bridge
This past spring some benevolent figure who currently remains a mystery built an excellent wooden bridge across the old metal I-beam to make this stream crossing much more rideable. While the old I-beam was a nice challenge, I definitely didn't feel comfortable risking a cold swim every time I rode this loop.

When ridden in the counter-clockwise direction, this bridge works easily into the flow of the trail. When you approach it going clockwise however, the turn onto the bridge is very sharp. I think that it will be doable with some practice, but I ride this loop counterclockwise about 90% of the time, so it usually flows easily for me.

In my opinion, the new bridge is a welcome addition to this ride!



Logging
At the time of this update, there is a serious logging operation in progress on the lower end of the loop. The skidders and logging trucks are utilizing the same doubletrack that this ride runs along for their skidders and log trucks. In fact, they have a big crane set up directly above the gated road for loading trucks with logs.

When I rode through last I was fortunate enough to have the place all to myself, but I have ridden through the vicinity within the past week while on the No Tell trail and could hear them loggers hard at work right next door on Montgomery Creek.

At this time, I'd advise you to avoid Montgomery Creek unless you know that they aren't logging on it at the moment, or unless it's the weekend. It's a shame really, because this time of year when the rain starts picking up and the singletrack remains wet for longer is when we really start frequenting the various forest road rides such as Montgomery Creek. Hopefully the logging will be done sooner rather than later, and we can get back to pedaling through the forest in peace!

The series "Everything You Ever Needed to Know About Dahlonega's Outdoor Sports" will return on Friday.