All told, there's about 30-35 miles of legal singletrack for mountain biking in the Bull/Jake Mountain trail system, located about 9 miles from Dahlonega. In addition to that, there are hundreds of miles of
gravel forest roads
spread across the region. All of the pertinent trail reviews for the immediate Dahlonega area trails are linked to from this post:
Bull Mountain Trail System
.
As the individual trail reviews will tell you when you read them, the horse traffic here on the Bull Mountain trail system is really heavy. This traffic has resulted in a rapid degradation of the trails, so expect to ride some severly rutted, rough, technical trails. I personally enjoy riding technical trails, so don't think that I'm complaining about the roots, but what I don't enjoy is having our nice, narrow singletrack widened out into a massive highway through the woods by countless hooves going off the intended path of travel. In short, some of the trails are great, others are not so great.
The one high point of Dahlonega mountain biking is that we are actually in the mountains. Everything south of us is simply rolling foothills, but to the north--to the north we have mountains! There are some serious climbs and serious descents to be had. Make no mistake about it: the riding here can be very challenging!
There's some great mountain biking in Gainesville as well, but the mountains really begin just north of the town of Dahlonega, and Gainesville is located 25-30 miles south of Dahlonega, i.e. further from the mountains, so the trails there are much flatter. You can read reviews for the two trails in Gainesville here:
Chicopee Woods Trail System
,
Gainesville College Trail
. The Gainesville College trail is only about 4 miles long, but Chicopee Woods is actually a full-blown trail system featuring about 21 miles of well-constructed singletrack.

More Mountain Biking Opportunities
The excellent trails in Ellijay are only about an hour's drive west, making them very doable for a day trip. Gilmer county (that area) has been dubbed "the mountain biking capital of Georgia..." and for good reason! The trails are superb! Check out these couple of reviews for more info:
Bear Creek
, and a review of just one section of the
Pinhoti Trail
adjacent to Bear Creek. There's well over 100 miles of bike-legal singletrack over there... plenty of mountain biking to go around!
Blue Ridge, about an hour's drive North of Dahlonega, also has some amazing trails, although the system is not quite as expansive as that in Ellijay. There's roughly 20ish miles of trails in that system, but many of them are ridden as out-and-backs. I have ridden and reviewed every one of those trails, so check out these links for more information:
Stanley Gap
,
Flat Creek
,
Green Mountain
, and
Long Branch
.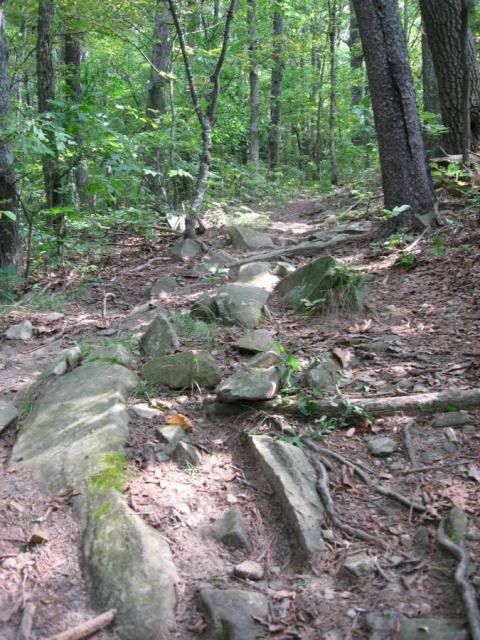 Stanley Gap in Blue Ridge

Riding Season and other Tidbits about North Georgia Mountain Biking
One of the coolest things about mountain biking here in North Georgia is that we basically have a 12 month per year riding season. During the winter things can get wet and a little snowy, and during those times we just stay off the singletrack to avoid unnecessary damage. Times such as those are when the gravel forest roads really come in handy! We still do get opportunities to ride singletrack in the winter, but it does take significantly longer to dry out when the leaves are off the trees. But still, if you're looking for somewhere to ride your mountain bike all year long, North Georgia just may be the location that you're looking for.
Your Turn:
Have you ridden in the Dahlonega area? Please feel free to share your thoughts and experiences in the comments section below!
Don't want to miss a single post? "Like" our Facebook Page or subscribe to our feed to get all the updates!.