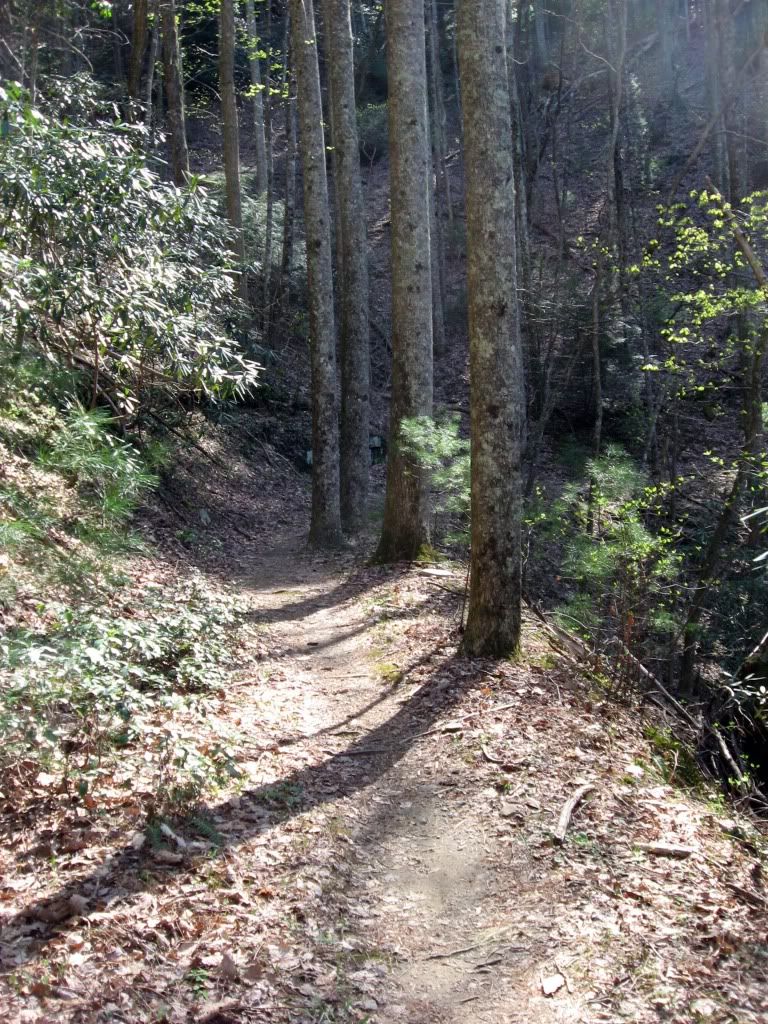 The Pinhoti Trail
Getting There
Head west out of Ellijay on Hwy. 52. Right after mile marker 8, hang a right on Gates Chapel Rd. Drive for about 5-6 miles, and you'll see a sign for the Bear Creek trailhead pointing up a gravel forest road to the right. Park on the road.
The Route
First off, I recommend riding this combined with the Bear Creek Trail for a 17-18 mile ride. For what is probably an excessively detailed description of that route, please see the
Bear Creek review.
Just Riding the Pinhoti:
If you would just like to do about a 7-8 mile ride on this single section of the Pinhoti trail, read on for more turn-by-turn information.
Park down on Gates Chapel Road. Begin by riding up the forest road to the Bear Creek Trailhead. Begin riding up the Bear Creek mountain bike trail, but a short ways in hang a left on the Pinhoti bike trail. Ride this all the way down to the gravel road, hang a left, another left on the pavement, ride a mile or two and you're back at the car.
Navigational Resources
All About the Trail
I was amazed by how well constructed this singletrack trail was! This section of the Pinhoti was beautiful benchcut, narrow singletrack. It winds among the mountains of North Georgia, delivering beautiful bermed out corners, decent climbs, and fast descents. The trail is built narrow and fast—so fast that I almost missed several switchbacks that really snuck up on me
All told, this trail was an amazing ride that felt incredibly rural and out of the way. The solitude and simplicity of just the trail and the trees was refreshing.
Technically, this trail was neither a bone-jarring gnar fest or a smooth roller coaster. It was somewhere in between, living across the street from a place called "perfection." Really, it's hard to imagine mountain biking getting much better than this. It is just good trail!
Bottom Line:
This is just an awesome trail for mountain biking! Best combined with
Bear Creek.
More Posts About this Trail:
http://www.gregridestrails.com/2010/07/mountain-bike-tourism-how-to-get.html
http://www.gregridestrails.com/2010/07/ellijay-mountain-bike-destination-win.html