Climbing, and Marauder Comparison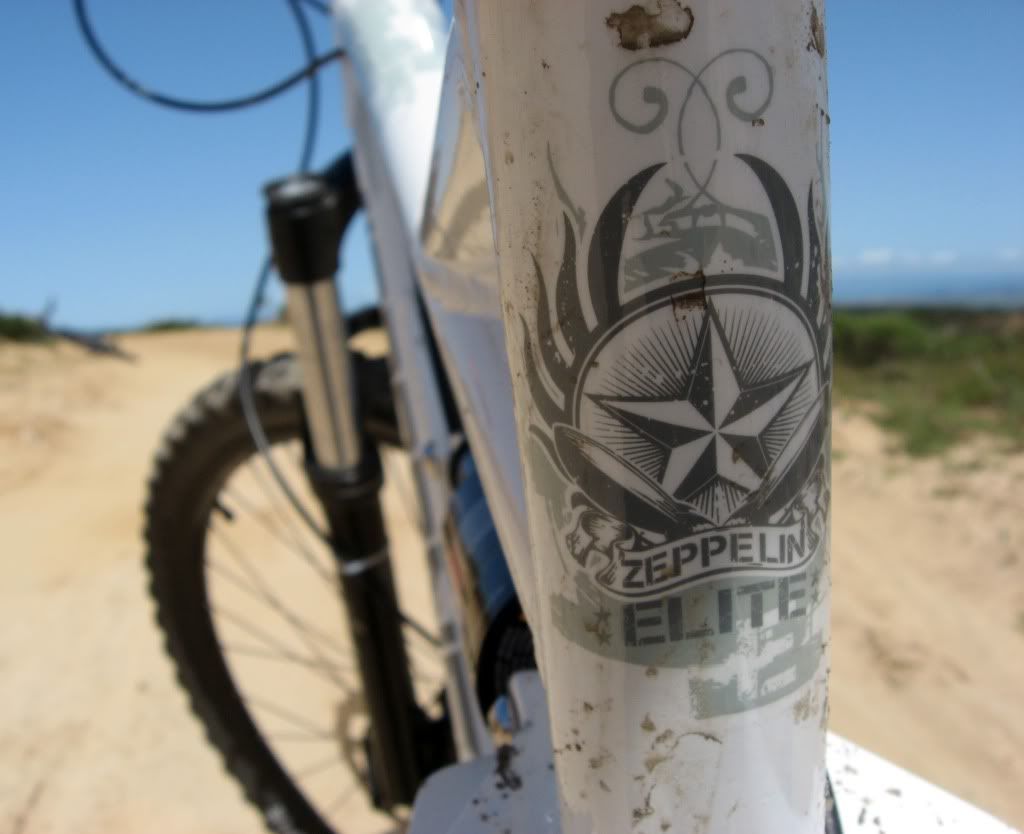 One thing is certain: this bike can climb! Despite the fact that it's a little on the hefty side and has 5" of travel, I rocked this up some seriously steep, anaerobic climbs and it definitely came out on top!

The Zeppelin Elite mountain bike is about 4-5 pounds lighter than the Marauder, and also has a geometry that is a little bit more on the cross country racer side of things. The bars still have some rise to them and the head angle is still pretty slack allowing for a comfortable trail/all-mountain feel, but the cockpit definitely isn't as all-mountain/freeride designated as the Maruader's. Also, I personally like the stock suspension setup best on the Zep Elite as compared to all of the other Airborne bicycles I've ridden. And you'll have that, considering it's the most expensive (of the ones I've tested) as well, but still a deal at $949.95 intro, $1,499.00 MSRP. All of things add up to provide a bike that's a pretty rocking climber. Check out this video to see me clean a steep, nasty climb at Sea Otter (of course it's steeper and nastier than the video makes it look):



Component Breakdown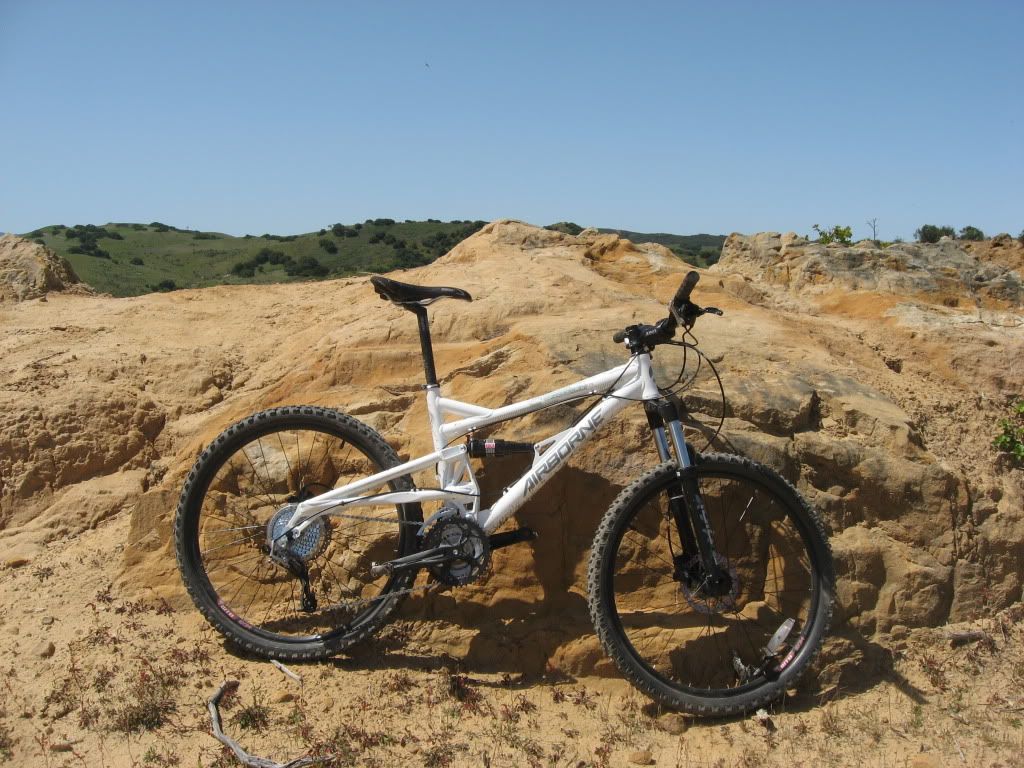 When I test rode this bike, I threw my own seat, seatpost, and SPD pedals on it. There are certain things that a person likes and is used to, so I decided to keep those the same for all of my test rides.
The drive train on the Zeppelin Elite is a great SRAM setup with X-7 shifters and an X-9 rear derailleur, almost exactly what I have on my Jamis Dakar back home.
The hydraulic brakes bit really well, but to see how they last over the long haul will have to wait until I've had my bike for a while.
The suspension ran pretty well, but I felt like the fork was lacking. It was decent, but not great.
I liked the slight rise in the bars, but I may swap out for an even bigger rise when I get my own rig.
One surprising plus to all of these bikes were the bomber grips they came spec.ed with. I love 'em! Definitely looking forward to those.
The biggest downside to the stock components, while pretty easily rectified, makes a big difference in how a bike rides: the tires. I'll dive into that more below.
Descending
The Zeppelin climbed great, and descended pretty well too. My biggest complaint about the bike are the 2.1" tires that come stock on it. I'm definitely a wider tire sort of guy, and this bike will definitely benefit from having some 2.35's thrown on it. This would help in several areas:
Cornering: the Zep seemed a little squirrely in some of the corners.
Air: the Zeppelin takes flight with ease, and feels more like a fighter jet in the air than a zeppelin! However, landings, again, were a bit washy due to the narrow tires, and the sandy trails where all of the testing took place
Shock absorption: a little fatter tire would help smooth out and eat up some of the small stuff, allowing the rider to focus more on navigating the larger obstacles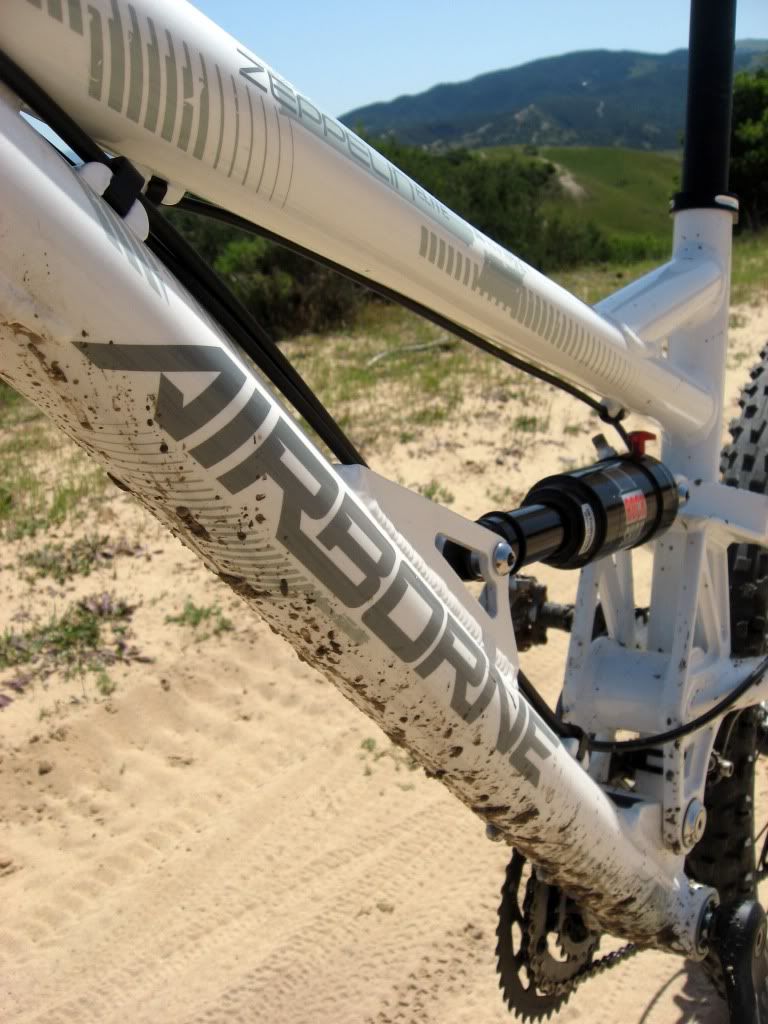 While I've listed all of these areas to be improved by a better pair of tires, the Zep. Elite
still
ripped downhills with phenomenal speed and grace! It's not all about the tires, and without a good bike/frame design, the point is moot.
Finally, as I mentioned above, the fork felt a little under-gunned at times, but that may have been simply due to the fact that I was used to the larger fork on the Marauder. After a half hour or so, I was in tune with the bike and rocking that thing out!
Check out this video of the Zep. dominating some downhill singletrack:
Trail
The Zeppelin Elite exemplifies what I have come to view as the "trail" category of mountain bikes. Over the last few years, as downhill and freeride have gotten progressively gnarlier, so have the all-mountain type riders who pedal their bikes to the top, but huck some serious drops and pin it through some nasty crap on the way back down. As a rider, I personally fall somewhere in the trail/all-mountain category.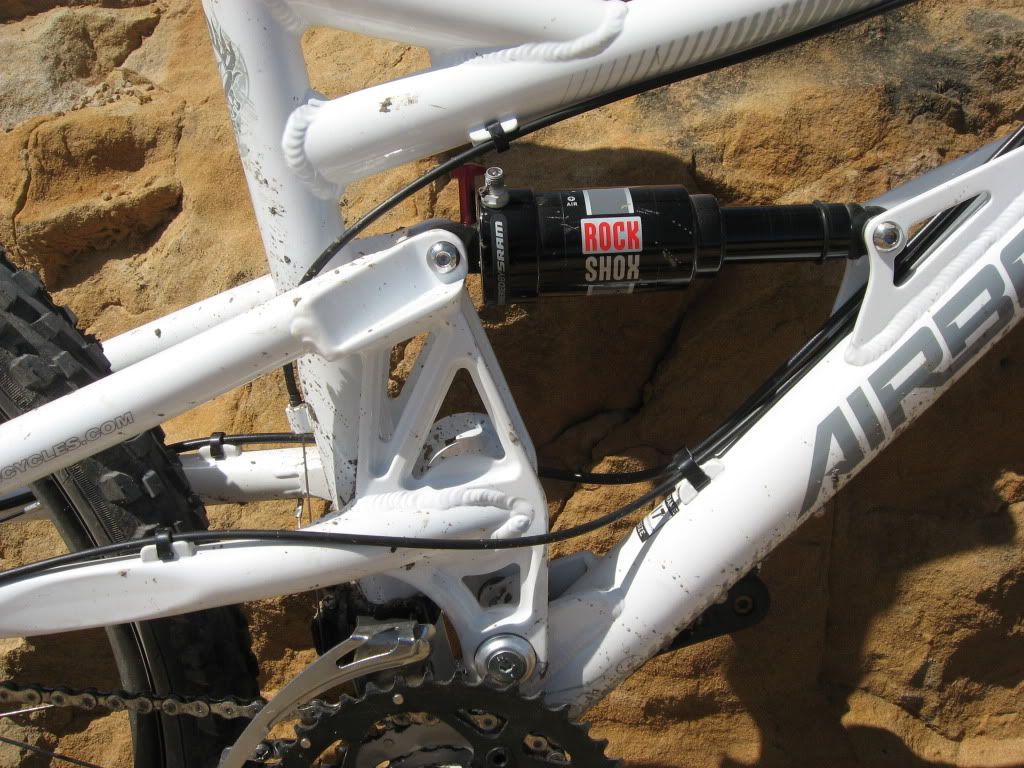 What I see the trail category providing is a full suspension mountain bike (about 5" or so of travel) that will climb well, descend well, but has a geometry somewhere between that of a cross country bike and a full-blown all-mountain rig. A trail bike will rock and roll down some gnarly trails, and will be up for pinning through a rock garden, but it may take some finessing to make it float
through and over the rough. A trail bike probably won't be up to the task of serious drops, and may feel a bit undergunned in some really, really rough areas. However, as with most bikes, if the rider has enough balls and skills, he'll make it go where he wants it to go. If the same rider had an all-mountain bike, however, he would be able to bash through the same terrain with much more reckless abandon and a lot less finesse.
I view the Zeppelin Elite as sitting about smack-dab in the middle of the trail category.
Full Disclosure
I got to choose a bicycle from any of the bike's in Airborne's line up for free, and as such I liked the Zeppelin Elite so much more than the others that I picked it to be my main bicycle for the foreseeable future! Bottom line: you're going to get the low-down on how this bike runs over the long haul. Stay tuned to hear how to stands up to (or fails) under the use and abuse I'll provide!