Getting There
From Gainesville, head south on I-985. Exit towards Oakwood. Turn right, staying in the right lane, and take one of the first lefts (following the little brown signs toward the "Elachee Nature Center.) Continue to follow those signs all the way to the trail. You will drive past the entrance to the Chicopee Woods golf course, DON'T turn in there. You'll eventually reach the right turn towards the nature center, and will drive past/through part of the golf course before reaching the parking lot.
Click here for the trailhead Google Map place-point
The Route
There is about 21 miles of singletrack here to choose from, and it is all networked together, allowing for many different ride variations depending on the difficulty and length that you desire.
Photo Courtesy of
Singletracks.com
All About the Trail
Like I mentioned above, there are 6 different trails that make up this trail system, with varying degrees of difficulty. Generally speaking, the "inner loop" trails (Flying Squirrel and Copperhead Gap) as well as the Coyote Loop are the more difficult trails. The singletrack is slightly narrower, and is inclined to climb and descend more sharply. There are also a whole bunch of awesome whoops spaced out along many of the inner trails for more advanced fun, and some hang time opportunities if you are cruising fast enough.
The Coyote Loop also has some gnarly rock sections, and a section of nice switchbacks built into one of the hills.
The Outer Loop gets more traffic than any of the others, and while the trail is a little wider and a little easier, it is by no means boring! This trail is screaming fast if you have the motor to rail it (due to great flow), and many of the bench-cut corners have bermed up and are perfect for maintaining your speed around them. Due to the traffic, there are also a lot of roots and some rocks scattered throughout this loop, but nothing overly difficult. None of the hills are too intense, making for a good quality singletrack ride! There are a couple of low bridges to mix things up crossing the low areas, with one deep stream crossing right before the end.
Bottom line: If you rail the berms, the descents are awesome! (Just wait for champagne hill.) Soak up this singletrack goodness, and ride it all!
Please visit the
Gainesville SORBA website
for up-to-date trail closure information (due to inclement weather).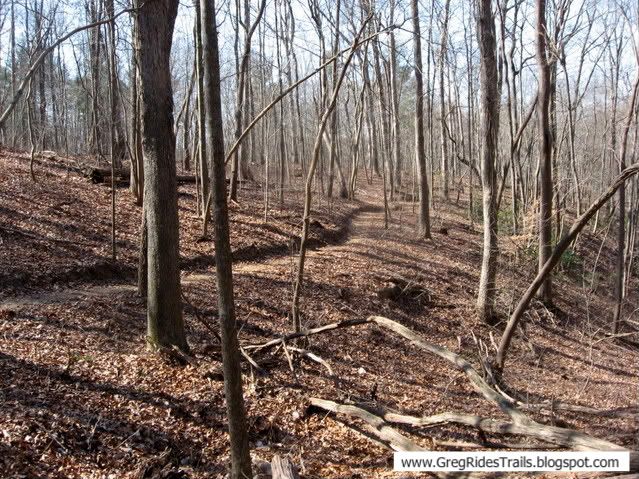 More Rides at this Trail:
http://www.gregridestrails.com/2010/03/dry-trails-and-warm-temps.html
http://www.gregridestrails.com/2010/08/piling-on-miles-friday-flight-crew.html