Getting There
From Gainesville, head south on HWY 985, and take the exit towards Oakwood. Stay in the right hand lane when you turn off onto the 6 lane divided highway, and follow all the way through the right turn into Gainesville State College. Continue straight on that road past several buildings, and take the left turn sort of down the hill that will have a woody area with the trailhead to the right, and a parking lot with a parking garage downhill from it to the left. Park over to the left where it says "bike trail parking." Click here for the Google Map placepoint
Again, the trailhead starts on the right.
The Route
For your crucial source of print information about this trail, pick up Jim Parham's Off the Beaten Track.
The route is about as straightforward as it gets. This is a fast, 4 mile loop. The route is quite obvious.
About the Trail
While I would not consider this trail difficult, that doesn't mean that it's boring. This is a fun, fast ride through the woods of Gainesville State College, and is even better if you go to school here and can just go for a ride to wind down after classes. The singletrack is fast and twisty, (with a couple of spots that slow down and tighten up) and due to a lot of use has formed a lot of berms in many of the bench-cut turns, which serves up just an awesome ride through the trees when you turn on the gas! There are some rooty sections, but nothing that you can't clean with a little bit of skill. The hills are small but snappy, with a couple short climbs and quick descents. Since this is such a short loop, I tend to do a couple laps on it to get a descent work out.
This trail sees quite a bit of bicycle use, as well as a lot of foot use from trail runners, so keep your eyes open.
Bottom line: turn on the gas, and get ready for a fun swoopy ride that doesn't require intense focus.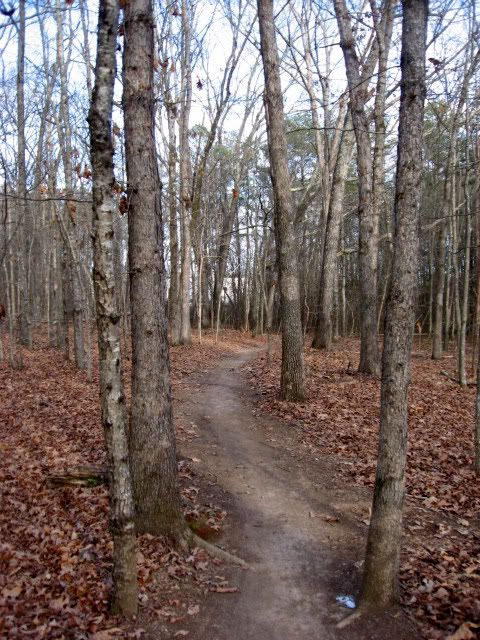 Rides at this Trail:
http://gregridestrails.blogspot.com/2010/02/shredding-some-tundra.html
http://www.gregridestrails.com/2010/03/leisurely-ride.html
http://www.gregridestrails.com/2010/03/back-on-bike.html
http://www.gregridestrails.com/2010/04/finally-riding.html