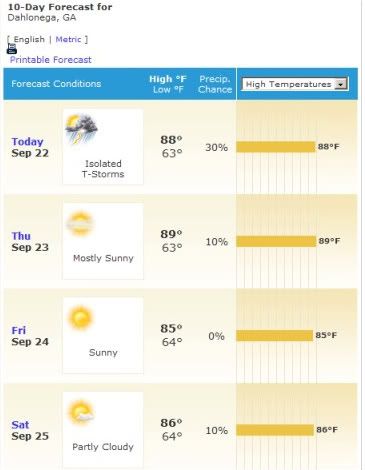 Dahlonega: High's in the 80's.
I just found out that today is
officially
the first day of Fall. You could have fooled me, because it is
not
fall down here in Georgia! I have seen so many beautiful fall photographs from
Wisconsin
,
Montana
, Colorado, and
Utah
, and I wish I was there to enjoy it! Georgia couldn't feel further from any of those places right now. We are
still
dealing with highs in the upper 80's, which isn't fall-ish weather by anyone's standards.

I do have faith that the seasons will change... and I'll be ready for it! I am so excited for the cool weather to be here. Fall is such a pristine mountain biking season:

The weather is cool, allowing you to ride for longer and to sweat less while you're at it
The changing leaves give the forests a new feel as they fall around you while you ride
The colors of the trees make the views even more breathtaking than usual
And THEN, the "brown ice" descends upon us. Coined by a person much more artistic than I (from BikeMag, I think), the phrase "brown ice" refers to the thick carpet of leaves that envelopes the singletrack when all of the trees lose their leaves at what seems like the exact same time. Suddenly, an easy covering that it now has. You wash out in previously tacky corners, and normally obvious rocks become a dangerous challenge due to the slippery brown covering.

Oh yes, I can't wait for fall! But it definitely is not here yet.

Your Turn: What are you looking forward to most this fall?