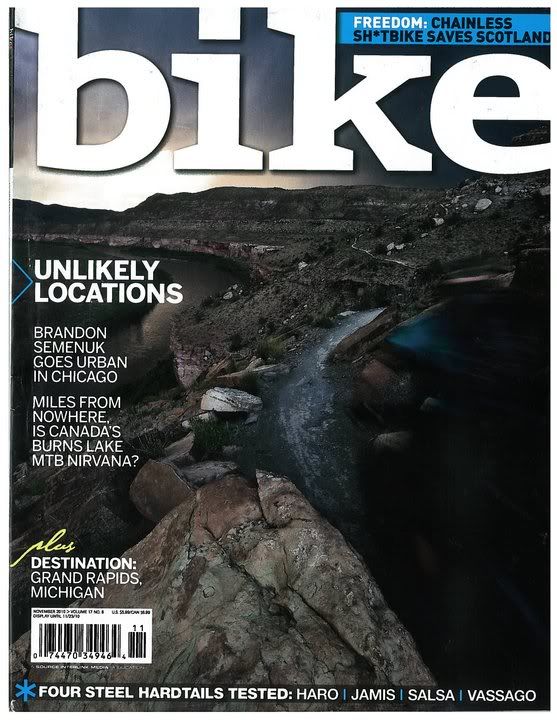 My personal mountain biking-media highlight of the month is getting the newest issue of
Bike Mag
. (Actually something like every other month, but you know what I mean.)
Bike
consistently provides the best photos, most eloquent essays, and most interesting coverage of any mountain biking magazine that I've ever read. This month's issue is no exception to that rule!
I have yet to read the entire magazine cover-to-cover, but there are 2 inclusions in this recent issue that I would like to point out:

1. Airborne Marauder
A quick blurb about the Airborne Marauder was included in the "Fresh Produce" section of the mag. Of course, I beat them to it, but it's very cool to see Airborne getting some much-deserved exposure!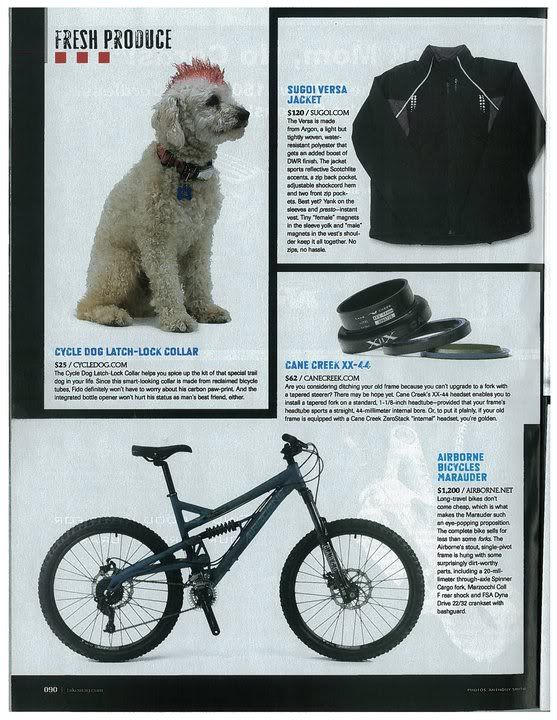 2. Scott Melzer's Letter to the Editor
GregRidesTrails.com reader and occasional contributor Scott Melzer successfully got a letter to the editor published in response to the "Off Leash" article in Bike's latest Photo Annual. Hopefully he will be putting together "

a bike/dog riding guide" for the blog sometime in the near future, but for now I hope no one minds if I republish his letter here:




I first started reading Bike with the first issue and picked it up to leaf through during trips to the laundromat. I was young and single then. Years have passed, but I have used your mag to keep me in the right frame of mind to keep me biking into my forties.

I've had two dogs since I've been reading your magazine to go riding with me, too. Pure bliss! So it was great to see the "Off Leash" story. Thanks for the photos and words that give me a fifty-fifty mix of adrenaline and motivation to get out and bike.
-Scott Melzer
Awesome letter Scott, and congrats on getting it published!

If you haven't yet (and don't have a subscription), head to your local bike shop or book store and pick up the latest issue of Bike Magazine today!