Airborne 29er
Airborne is getting BIG... Big wheels, that is! It is official: Airborne will soon be releasing a 29er hardtail that will fit squarely into their niche of
solid bicycles for not very much money.
It is looking to be a real beauty of a mountain bike.



Big Wheeled Mountain Bikes
Mountain bikes with 29 inch wheels are all the rage in the mountain biking world today. I wondered for the longest time what the hype was all about: were big wheels really that much better? I had no idea how it really felt to ride one, and my initial assumption was that it would feel as if you were sitting much higher up on the bike.

Then I got a chance to swap bikes with a buddy and get a first-hand experience with big wheels. I was stunned by how it felt! Instead of feeling as if you were riding high above the wheels like I thought you would, the feeling was more of riding between the wheels--more so than a 26" bike.

Those big wheels felt so stable on the descents and in the wide sweeping turns, and felt very solid over roots as well. Now I know why these 29er guys are such fanatics! I didn't have much time to ride that bike, but hopefully soon I'll have a new Airborne 29er in my stable to put to the test!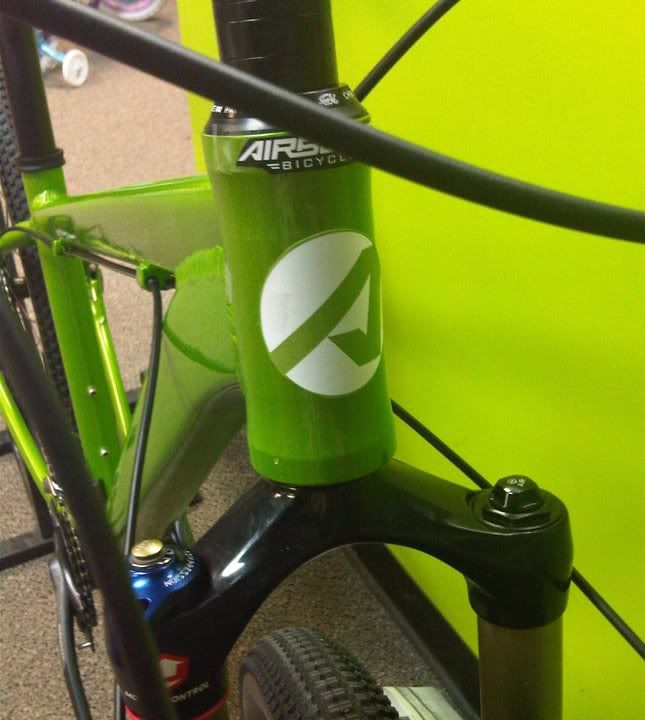 Head Tube, beginning of decal work

The Scoop on Airborne's 29er
Of course, I can't spill too much info yet, and there are details that are still being worked out, but here are a few insider goodies for you to chew over and consider just how awesome this bike is going to be:

Price: The intended pricepoint is roughly $1200 for this fully-built aluminum 29er. That's freaking awesome!
Weight: This will easily be the lightest Airborne to date. Preliminary builds are indicating a complete weight of about 27 pounds or less for a medium/large frame bike.
Color: Check those photos out. How can you not look forward to a bike that is Mountain Dew green?
Performance: According to my sources, preliminary shake-down rides on some of the prototype frames have all been incredibly positive! From what I hear, the guys lucky enough to have prototypes have been throwing numerous 3-5 hour epic rides at this thing and it is holding up well and just begging for more!
Drive Train: This bike will come stock with the new SRAM X-7 2x10 drivetrain. I am excited to put this new system to the test and see how it performs, but eventually I"m thinking about a singlespeed build for this bike.
Of course, some of these things are a little up in the air as this bike isn't set to go on sale until sometime in early 2011, but suffice it to say that all of the Airborne Flight Crew is stoked on this new bike!

Look for another preview post in a week or so in which I'll talk about the bike's name and what it means.

Your opinions, please! First impressions: what do you think? What do you think of the price: is $1,200 for a complete 29er hardtail awesome, or is it just ok?

Please note: The photos included above are of prototypes for the new bike. The decal work has only just begun, and the parts in the photos above are not the final build.