I have profiled almost all of the trails at
Levis Mound.
Yes, some of the best are still to come, but it is time for me to brag on my favorite trail in the whole system, which is really one of my favorite trails of all time:
Cliffhanger.
The first thing that you need to know about Cliffhanger is that you should always, always ride it top to bottom for best flow and sheer enjoyment factor. The singletrack begins on top of Levis Mound at the small sign with the IMBA Epic Logo, letting you know that it is an officially sanctioned sweet trail.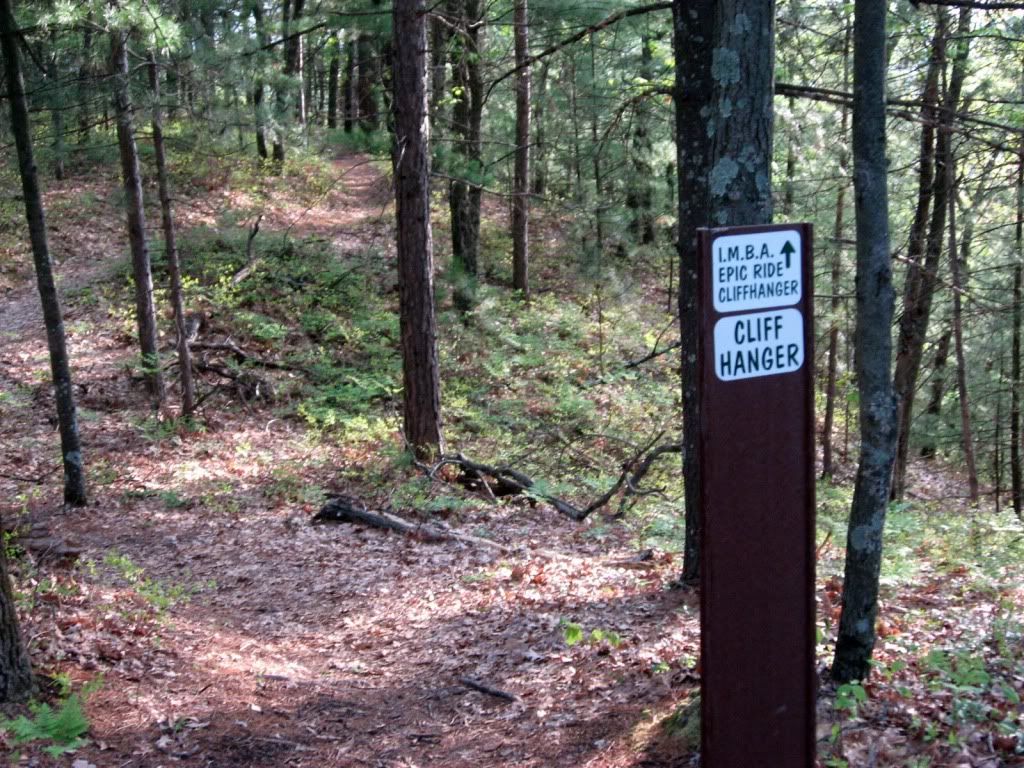 IMBA Epic
It turns to the left, and then switchbacks right and begins descending.
One of the reasons I love this trail is that there is an overall loss in elevation; I was born to head downhill. Cliffhanger isn't a fast all-out bomb, but rather it roller coasters its way down along the side of the mound, with several short rolling climbs along its length.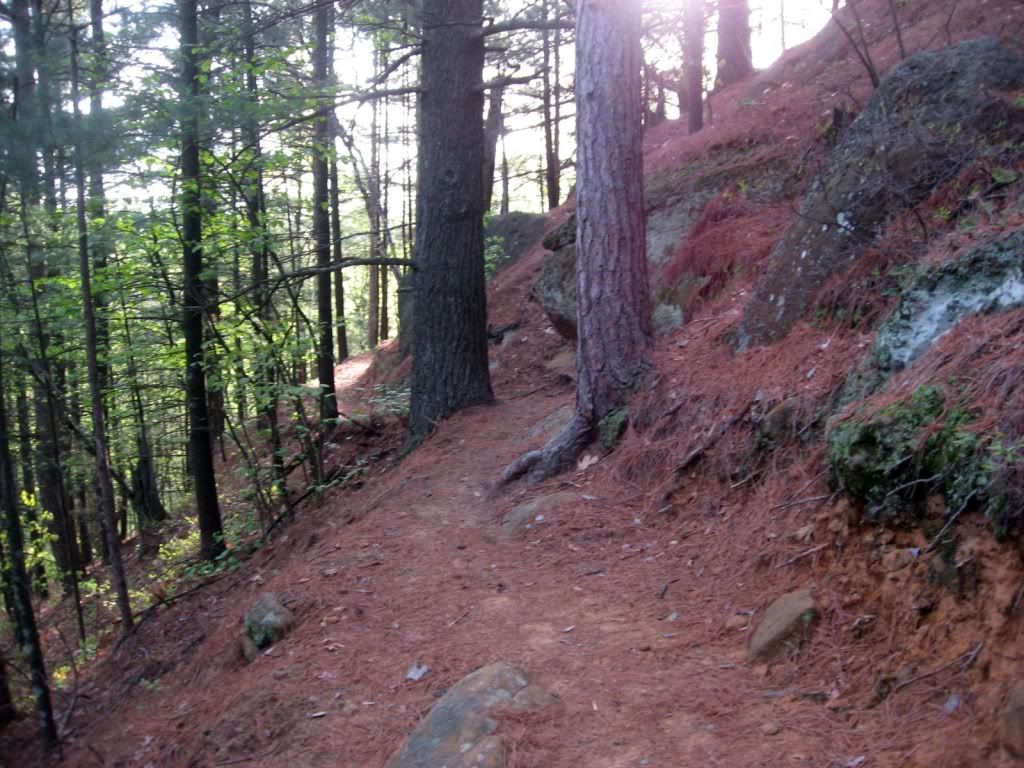 The trail is beautiful Levis Mound bench-cut singletrack, and passes directly below and above several large sandstone cliffs as it winds down the hill. Like
North Face
, Cliffhanger is built on the north facing aspect of the mound. The loamy soil lies peacefully in the shade of the deep north woods forest, offering a greatly appreciated respite from the many sunny trails on a hot summer.
Don't let the peaceful forest lull you into a false sense of security. Cliffhanger is one of the more technical trails on the mound, dishing up plenty of rock gardens and rooty, off camber corners just begging to tip you off the edge and send you rag dolling down the steep, heavily treed hill! One of the classic technical maneuvers out at Levis is going up and over this rock:
Front side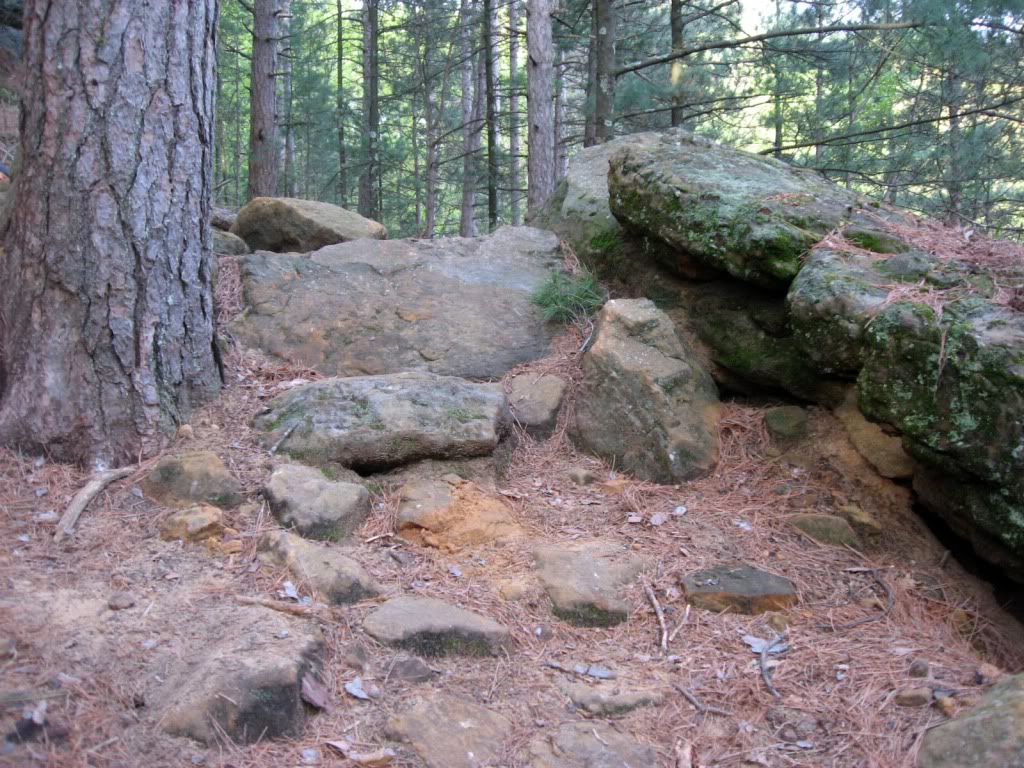 Back side
While intimidating at first, once you've ridden it several times it becomes an easily conquered, yet always enjoyable obstacle. (Hint: ratchet the pedals.)
Video
Here's a short video from the last half of Cliffhanger just to give you an idea of what the atmosphere of the trail is like. I was riding with a group, and following a tandem down, so I didn't get video of the technical features up above. The section included in the video below could have been ridden a lot faster, but again, I was following a tandem down. You really have to admire their skills riding a trail like that on such a beast of a bike. My wife and I tried it on some flatter trails, and it was a real challenge!
The next video is of the last downhill section of Cliffhanger, dropping down from the junction of Cliffhanger and Switchback (where the last video ended) towards the ski trail and Snodgrass. If you're riding my recommended technical loop (see this post) you won't ride this section of trail:
During the video you can hear a little bit of my conversation back and forth with Dean. I believe he was commenting on how this section was recently rerouted, (its much longer now, was originally a very steep drop and is now long and flowy) and was wondering if I'd ridden it before.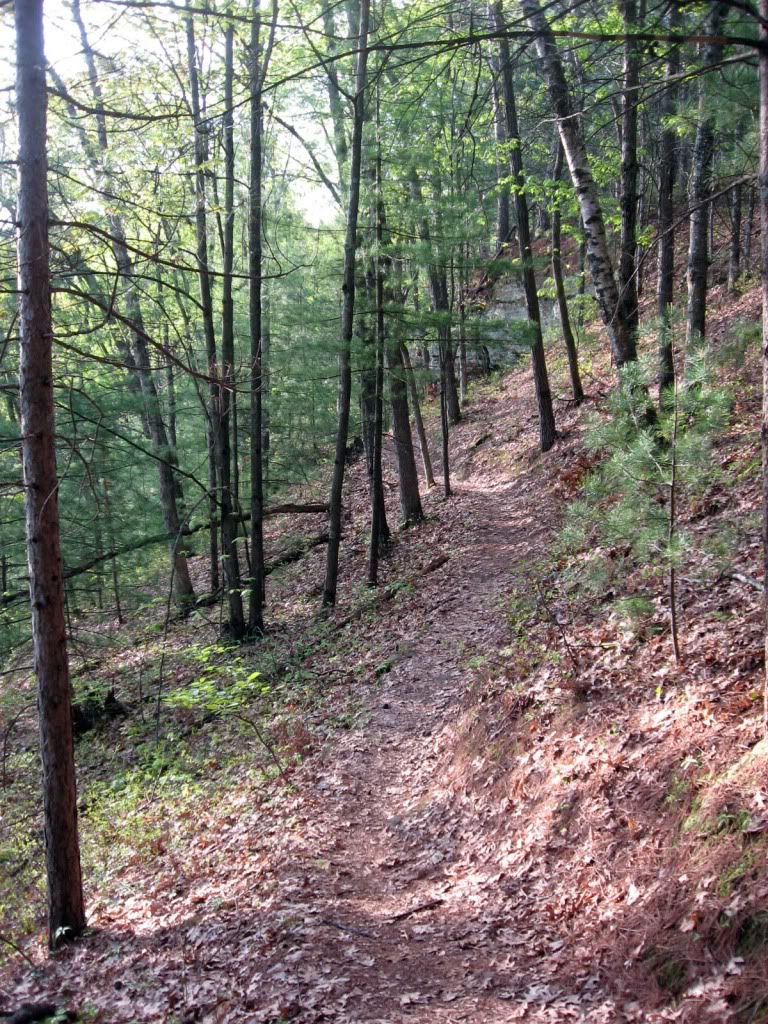 Bottom Line
The descent, the rocks, the winding trail, and the beautiful scenery all add up to make Cliffhanger one of my favorite trails of all time. When I first learned to ride, I would do lap after lap on the front mound, climbing up various trails, but almost always descending Cliffhanger. Whenever I come back to ride Levis again, Cliffhanger is invariably one of my first and last stops in the trail system. I'm sure that I'll keep coming back for years to come!
Your Turn:
Your thoughts and comments are greatly appreciated!