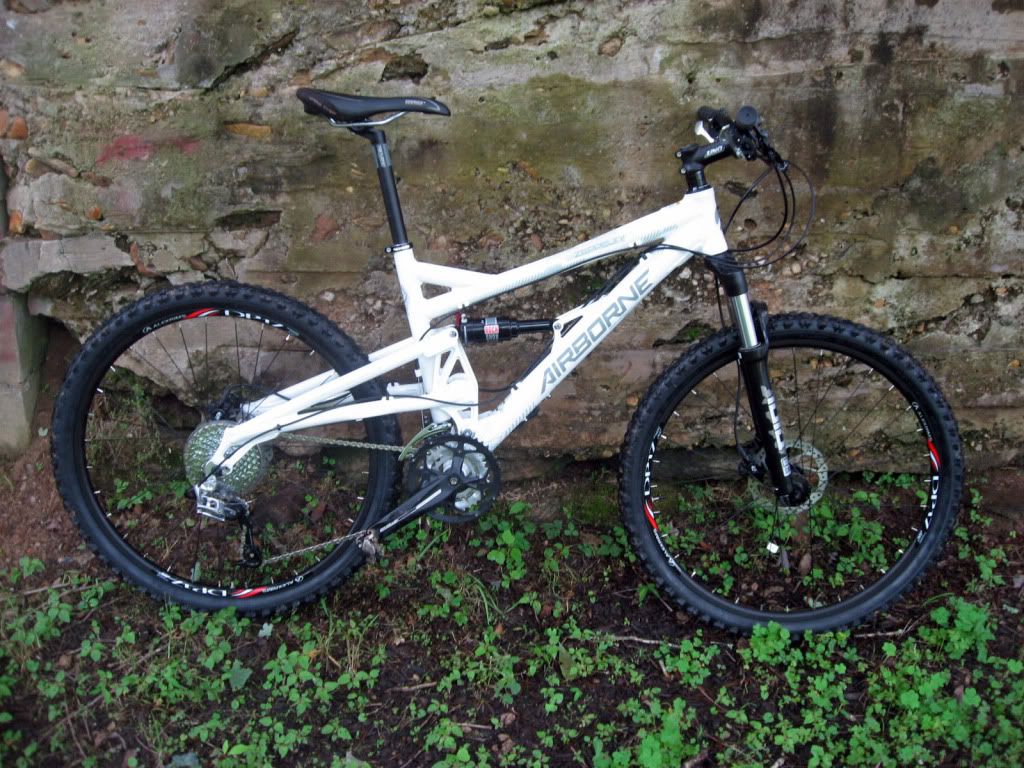 I have been longing and waiting for a month and a half for this... and it finally arrived on Friday! My brand spanking new Airborne Zeppelin Elite is
in the house!
Of course, it's really
not
in the house, but in the shed. But it's
mine
and it's
here!
I'm so stoked to have a new bike! Many thanks again go out to
Airborne
for choosing me as a member of the
Flight Crew
.
The Above Photo
After I arrived home and saw the massive bike box sitting in front of the door,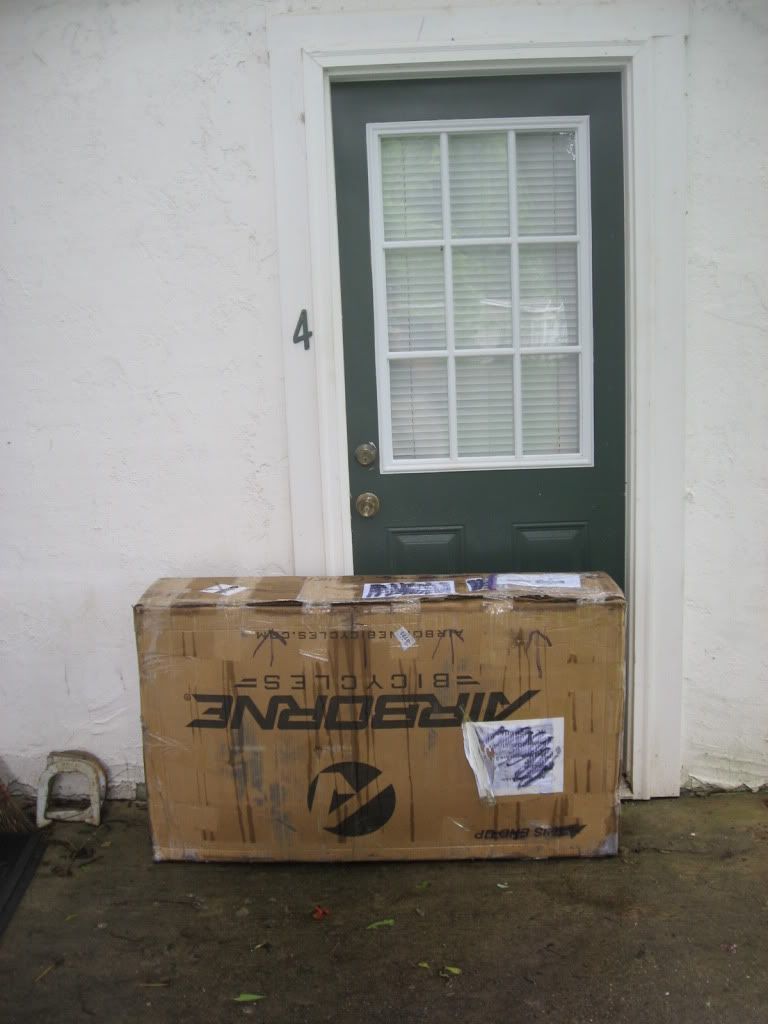 I immediately set to work assembling it. The above photo represents a mostly stock Zeppelin Elite. The only exceptions are my own Titec Hellbent seat and Truvativ seatpost, and a pair of Shimano SPD Pedals. As I mentioned in a
previous review
, I will be putting on a pair of much larger tires.
One of the tires, currently mounted on a Gary Fisher Tassajara
I decided against switching out the tires immediately, due to the fact that I am still not nearly recovered from my back pain. I'm not going to be riding any singletrack anytime soon.
What I Can Ride
I will definitely be doing some riding though! I have been off of the bike for way too long! Yesterday morning I got out for a short but extremely liberating ride (just on pavement), and today my wife and I cranked out several miles of USFS roads.
(Written Sunday)
As I continue to recover from this painful affliction, I'm planning on easing slowly back into mountain biking. The mileage will slowly climb upwards, and I'll avoid rough singletrack trails for at least another week or two. That's why I made the call to go with the skinnier stock tires: less rolling resistance on the gravel roads where the traction and cornering power of a bigger tire really isn't needed.
Once I have my beautiful white bike totally tricked out, I will definitely be posting an exhaustive photo essay of my new ride.
The Quirks
There are a few small quirks that already need to be ironed out. I don't know who is at fault: the factory, or Giant Nerd's "pro build." But right out of the box I had a clunk at the point where the rear shock bolts onto the downtube. I checked out the bolt and it seems tight, so I'm wondering if it's just the wrong size bushing. Also, after just two short rides the bike has developed a loud creak in the headset. It may just not be tightened properly... I'll be looking into it soon.
Finally, the Rock Shox Tora seems pretty pathetic (no offense intended to anybody). I don't know much about this specific fork, so it may just need a stiffer spring or thicker viscosity oil. I'm used to air sprung forks, so the Tora is very new to me. That, and I'm not much of a grease monkey. I can do some of my own wrenching but if anything serious needs to be operated on, it's going to the bike shop!
The Sweet
Even with the quirks, this bike is riding sweet! It feels so good to have brand new components and a brand new frame ready to get punished! Once my body can dish it out, this bike
will
get put through its paces!
Your Turn:
Any advice on the clunk, squeaking headset, or the Tora? Also, are there any things in specific that you would like to find out about the bike as I ride it in?
Update:
I'm not the only one with a brand new bike: Fatty just got a beautiful Gary Fisher frame in the mail.
Check it out!