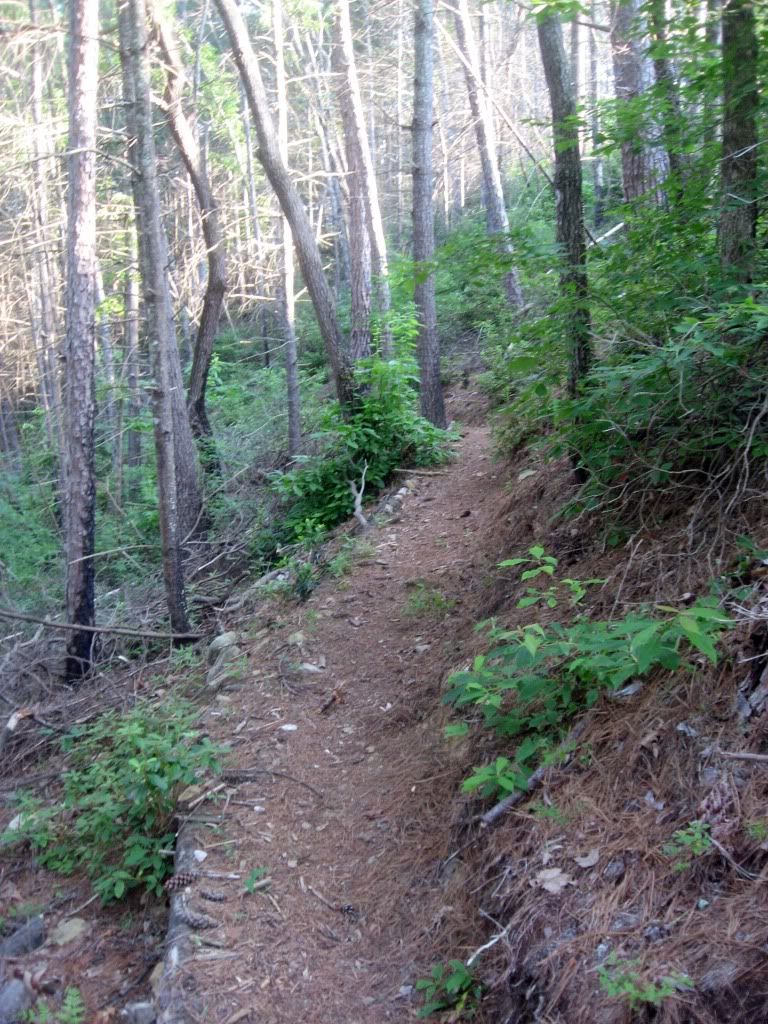 White Twister
Getting There
From Clayton, Georgia:
Head out of downtown South on old Hwy 441. Pass through Tiger, and go about 2.4 more miles. When you see the National Forest sign for
Stonewall Falls
on the left and The Clayton-Rabun County Water Authority building on the right, hang a right onto the gravel road past the building. You'll have to drive in a mile or two along the gravel road, which is washed out and rutted in places. Continue until you reach a pretty obvious parking lot. You will have already passed the trailhead for White Twister about a quarter mile back on the left (as you come in).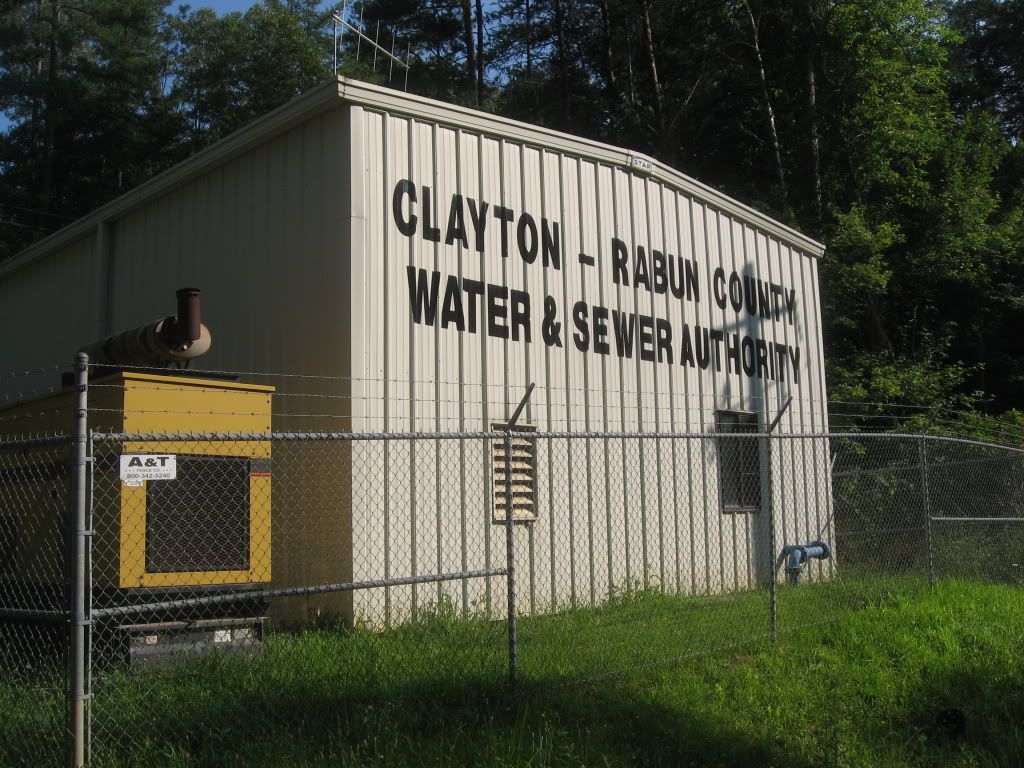 Turn Here
From the South:
Coming from the South on the current US 441, Hang a left on W. Boggs Mountain Rd., and then another left onto old US 441. You'll reach the turn (mentioned above) very shortly.
Click here for the Google Maps location.
White Twister Trailhead
The Route
From the parking lot, head back down the rutted hill and hang a left at the bottom, going back the way you drove in. Very quickly the trailhead for White Twister will appear on your right with a nice wooden sign marking the trailhead. Make a right onto the trail. For the entire course of the singletrack, there are no turns to be made--just follow the trail!
After emerging from the trail 4 or so miles later, hang a right on the gravel forest road, and then in about a half a mile hang a left back up the short, washed out hill to the parking lot.
Navigational Resources
Jim Parham's Off the Beaten Track: North Georgia
is a good guide to this route, and the
National Geographic map #778
also includes this trail.
All About the Trail
After reading
Jim Parham's
rave review of this trail, describing it as "a roller coaster for your bike," I was very excited to get out and ride it! Unfortunately, at the time I visited it
(July 10th, 2010),
White Twister was anything but exciting.
Downed Trees
Downed Trees
When I rode this trail, downed trees where
everywhere
. Normally, I expect there to be a downed tree or two in every epic mountain bike ride, especially around here in the Southeast. However, the situation on White Twister was hideous. It felt like I had to dismount literally every hundred yards to hoist my bike over a tree, or to scramble under a series of branches. There had been a serious storm in the area only two nights before, and it is possible that some of the trees had come down in that storm. But after having to dismount countless times over this short 4.5 mile trail, I was quite sure that there was more than just one storm to blame.
Burn Area
Much of the trail passed through an old burn area, and I noticed that there were still a large number of dead trees standing alongside of the trail. These trees are probably creating a maintenance nightmare, as they just stand there and rot, just waiting for a big thunderstorm to bring them crashing down all over the singletrack. I wouldn't be surprised if White Twister receives regular maintenance, but still has trees come crashing down all along its length. Sometimes, these sort of things just happen and have to be dealt with over time.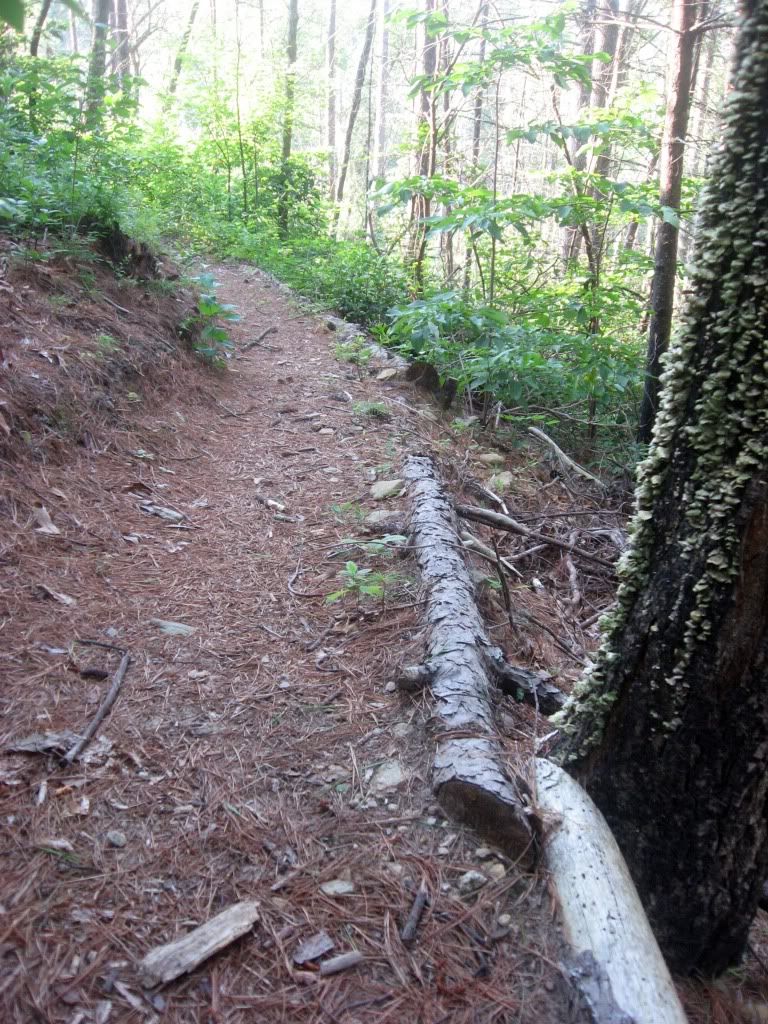 Well-built Trail
The Trail Underneath it All
Underneath all of the downed trees and the undergrowth that has sprung up in the absence of a forest canopy is a truly remarkable trail. I was sad that I wasn't able to experience the true flow of it all due to having to dismount so often, but from the well-constructed switchbacks and fortified bench cut trail, I could tell that White Twister had been a true labor of love. Hopefully one day all of the mess will be cleaned up and White Twister's true colors will shine again. When that time comes, expect to see me making the trek back to Clayton to ride this trail again!
Bottom Line
This trail isn't worth your time until some serious maintenance is done. Instead, visit White Twister's epic neighbor, Stonewall Falls.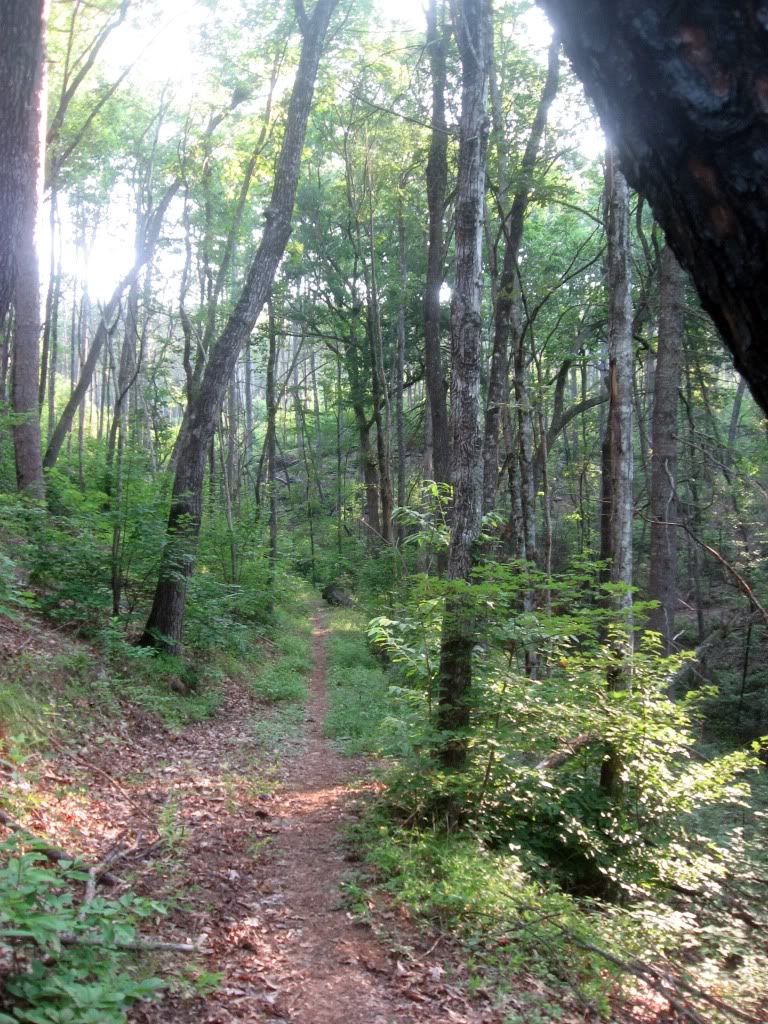 Your turn: Please weigh in with your thoughts on trail maintenance below. Is the mountain biking population in the area just very small and not capable of handling maintenance of one out of two of their local trails, or what is going on?