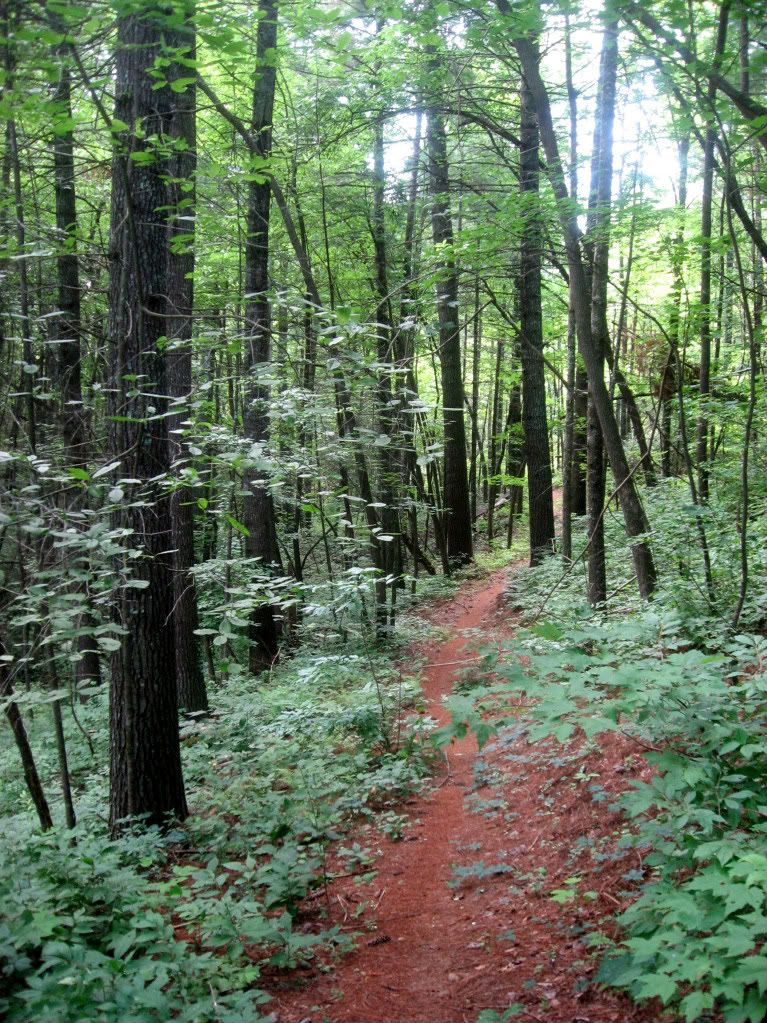 Stonewall Falls Trail
Getting There
From Clayton, Georgia:
Head out of downtown South on old Hwy 441. Pass through Tiger, and go about 2.4 more miles. When you see the National Forest sign for Stonewall Falls on the left and The Clayton-Rabun County Water Authority building on the right, hang a right onto the gravel road past the building. You'll have to drive in a mile or two along the gravel road, which is washed out and rutted in places. Continue until you reach a pretty obvious parking lot.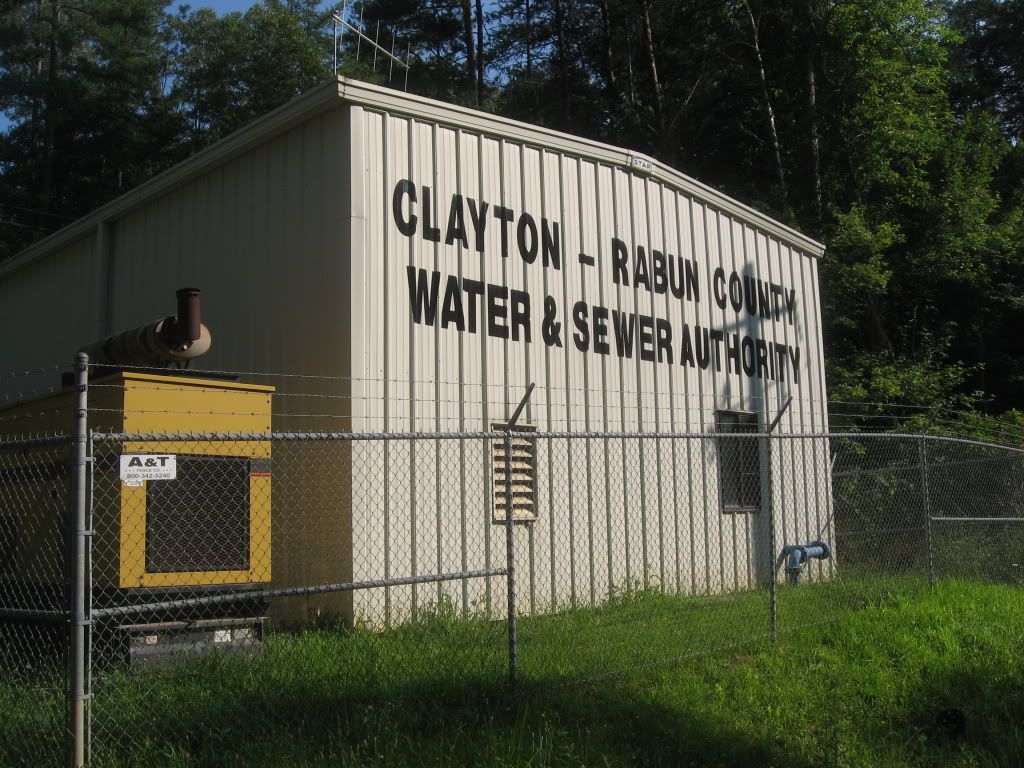 Turn Here
From the South:
Coming from the South on the current US 441, Hang a left on W. Boggs Mountain Rd., and then another left onto old US 441. You'll reach the turn (mentioned above) very shortly.
Click here for the Google Maps location.
The Route
First, you need to know that all of the current navigational resources are out of date in regards to this trail. This includes Jim Parham's guide, and even the National Geographic map for the area. What was initially an arduous 1 mile gravel road climb has been rerouted by a beautiful ~3.5 mile singletrack addition, which turns this into an 11 mile loop with less than 1 mile of forest road riding.
To begin the ride, head uphill from the parking lot around the gate. After 0.2 miles, hang a left on the singletrack and ride the loop. The trails are well marked. There is a bailout option about halfway through, and in the last half there are several forks in the trail with one side offering an easier route and the other offering a more technical challenge. All such forks are clearly marked: the excellent signage makes navigating this trail a cinch!
All About The Trail
As I mentioned above, Stonewall Falls is now an 11 mile loop that has less than one mile of gravel road riding in it. As such, this is a North Georgia jewel!
When we reached the singletrack section and began to climb, I thought for sure that the trail was going to be fairly technical and challenging, and be very similar to other singletrack I'd ridden in North Georgia like
Bull Mountain
,
Bear Creek
, and
Stanley Gap
. However, I was surprised: the trail climbed consistently, but not so steeply that it was challenging to ride. Instead of the trail tread consisting of red Georgia clay, roots, and rocks, the surface was more of a sandy/loamy mix that was an incredible pleasure to roll on. Even after the new section of singletrack ended, the trail stayed fairly non-technical throughout its length.
Climbing
Despite the lack of technical difficulty, do
not
make the mistake of thinking that Stonewall Falls is easy. What it lacks in roots and rocks Stonewall Falls makes up for in aerobic difficulty due to numerous climbs. This is not a trail that gets all of the climbing out of the way beforehand, and then just offers up a delicious downhill reward on the back half. Sure, there are great descents, but they are spread along the entire trail and broken up by big climbs at the bottom of every hill. I was constantly waiting for the climbing to be over, but it
never
felt like it was... and the loop finished with a short gravel road grind back up to the car.
While there is a
lot
of climbing, the singletrack is graded with bikers in mine and is completely rideable all along it's length, keeping you from going anaerobic for long periods of time.
Descending
Dang, I loved this ride! If you have a
need for speed,
head to Clayton
and
rip
down these descents! Fast and mostly smooth, pretty straight and almost always super flowy... it really doesn't get much better than this in North Georgia! This is what trail riding is all about! A hardtail will do just fine out here, but you'll really smooth it out and feel the flow and speed with a 5" trail bike.
The Namesake
The Stonewall Falls loop is named after, you guessed it, a waterfall: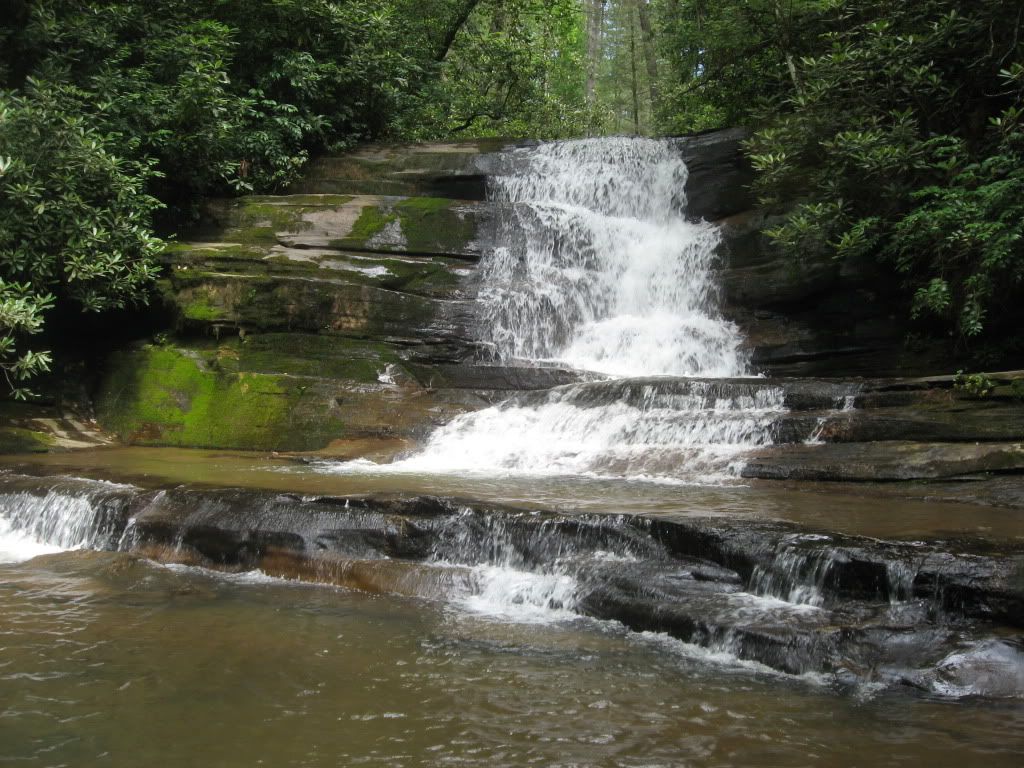 Stonewall Falls
This is the prettiest non-commercialized waterfall I've visited in Georgia. The trail dumps you down a series of rock ledges right at the bottom of the falls, giving you the opportunity to cool off in the river's icy waters with a calm roaring in the background. After the strenuous 11 miles that you've just pedaled, it is a welcome reward!
Video
Bottom Line
This is one of the best mountain bike rides in North Georgia. Definitely a must-do for anyone living withing a few hours drive!
More Rides at this Trail
http://www.gregridestrails.com/2010/07/secret-to-riding-switchbacks-on.html