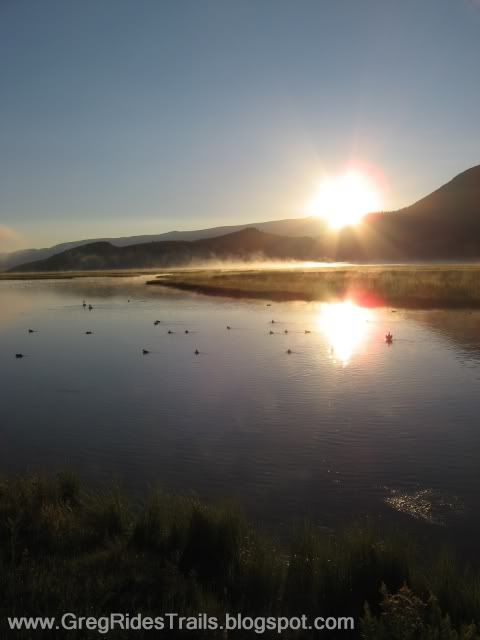 Where else can you get views like this?
Remember, every comment you leave this week gives you a chance at winning some free mountain bike gear! More info here.
My goal whenever I've gone mountain bike bumming has been to spend as little money as possibly.
Specifically:
I only want to spend money on gas and food.
During a normal trip / vacation, lodging is usually a very large percentage of the cost. Hotel rooms, cabins, condos... all of those cost big bucks everyday of your trip, especially in the true destination towns that have learned that they can charge an exorbitant fee and get it.
Camping
Even camping can be expensive. I recently tent camped for a weekend in a National Forest campground, and the cost was $14 per night for a basic campsite with no amenities. Additionally, if you don't already own the requisite gear such as a tent, sleeping bag, sleeping pad, etc., the initial cost of purchasing it can be very steep! (Especially if you buy quality outdoor gear.)
Camping can only effectively correlate with a true MTB-bum lifestyle if two conditions are met:
You already own all of the necessary camping equipment. As noted above, its expensive, but if you already have it: use it.
You can find a suitable location to pitch a tent that is 100% free.
Number one is self-explanatory, but I'd like to shed some light on a free location. The ease of finding a free campsite can differ widely depending on what part of the country you're in. From what I've observed,
camping is generally free on National Forest land.
So if your travels find you riding near a National Forest, you're in luck. To find a good spot to pitch your tent, try driving back into the woods on a gravel USFS road. Based on what I've observed over my years of riding and traveling, there are generally a good number of largely unmarked pull-offs randomly spaced along these backwoods roads. These locations make for ideal camping spots. While they may be difficult to find if you're not a local, keep your eyes open as you drive around to different trailheads, and try to notice any promising spots. From my experience,
locations near streams or rivers, or crossings of a major hiking trail such as the Appalachian Trail tend to contain well-used campsites. Little free spots like that abound here in the Southeast,
and I've seen many of them in the Rocky Mountains as well.
True Bumming
If you don't have the gear, are traveling from area to area a lot, are crossing great portions of the country, or aren't near any good National Forest land, camping could easily not be an option. The true bum way of life shines through when hotels and camping are both out of the question.
The solution: sleep in your vehicle.
Your vehicle doesn't even have to be a big van or SUV with comfortable seats. I pickup truck or even a relatively small car can be made to work. When I bike bummed across Colorado and Wyoming, I slept every night in the cramped back seat of a Pontiac Grand Prix. While not ideal, it was totally free, and with a little ingenuity I was able to turn my back seat into a cozy bed.
Parking Your Car
The concept is simple: just go sleep in your car. Right? Wrong.
Finding a good place to park your car can be tricky, as I personally discovered the first night I tried to do it. If I remember correctly, I drove around for over an hour and checked out about 5 different spots before I finally chose one. When choosing a spot, you need to consider the fact that you don't want to get busted by the popo (as a ticket would negate any savings earned from sleeping in your car) and don't want to get robbed by a gangsta. Check out the list below for some ideas that I've come up with after several adventurous nights spent in the back of my car:
USFS road out in the boonies. Check out the camping section above if you skipped it because you don't have the gear... those spots would work as great places to park your car, too.
A parking lot with a lot of cars. Any place with a lot of cars can be a good idea too, because you won't stick out like a sore thumb by being the only car in the parking lot. Places like 24 hour Wal Marts and the like fit into this category.
Waysides and overlook turn-offs. Rest waysides off of interstates are classic locations to sleep in your car. Also, while you might not think of it, a turn-off for an overlook or view can prove to be a convenient sleeping spot. I took the image at the top of the post when I woke up early in the morning in Jackson Hole, unknowingly parking in a gorgeous location the night before.
Ski resort parking lots. Sure it's 2010, but many ski resorts still contain traces of the ski bumming glory days in their general leniency with their parking lots. Plus it's the summer, so the ski resorts have a multitude of vast lots sitting completely unused, just begging to be inhabited by broke mountain bikers.
The trailhead, if it's not forbidden. Obviously the most convenient place to park you car would be at the trailhead. Just check to make sure that it isn't forbidden. Remember, getting in trouble with the law is not in a bum's best interest.
There you have it: an excellent source of information to get you started with a place to stay while on your own mountain bike bumming trip! Next up: eating on the cheap.
What do you think would be the best sort of place to stay/park while living the mountain bike bum dream? Or do you have any questions about possibly parking spots? Leave your opinions and questions by using the comment box below!
Part 2: "What to Eat: Eating on the Cheap"