Want to win a Giant Trance X1 and/or $100 cash? Click here for details!

The Airborne world has been a busy, busy place as of late. But before we get to all of the news, here's your mtb video fix for the week:



News
29er
Airborne has officially announced on their Facebook page that the next bicycle to be released will be a 29er! The Flight Crew has been having a big say in some of the design elements, as well as the name and color selection of the new bike. It has been really exciting to give advice on the "under development" models, and I am very excited to finally see the production model of the 29er very soon!

Taka Time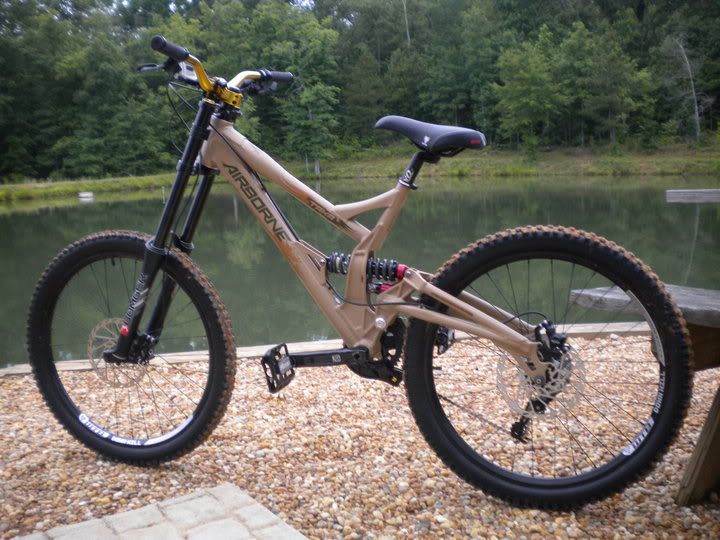 Photo taken by Patrick
In order to help us spread the word about more of their current bike models, Airborne has decided to send each Flight Crew member a second bicycle! After much internal turmoil, I selected what I honestly think is currently the best bicycle in Airborne's lineup: the
Taka downhill bike
!
I have wanted to get into full-on lift served DH riding for a very long time, but I've never really lived in a place where it would be practical to buy a dedicated downhill rig. Well, I still fully don't as it's almost 4 hours to the nearest lift served riding, but I just couldn't pass up the opportunity to get one of these sweet rides for
free!
Dang, I just love going fast downhill! I can't wait for this to show up on my doorstep!
Other Flight Crew Members
Ana Christina Rodriguez has ridden the Taka to the top of the podium and claimed the title of Wyoming's Pro Women's DH Champion! A big shout out to her, and a congratulations on a job well done!
Marty Tank just posted a new riding video of him tearing up some sweet Wisconsin singletrack. Be sure to
click here
and check it out!
Your Turn:
How interested are you in Airborne's new 29er? What do you think it would take for a 29er to really stand out in the current market?