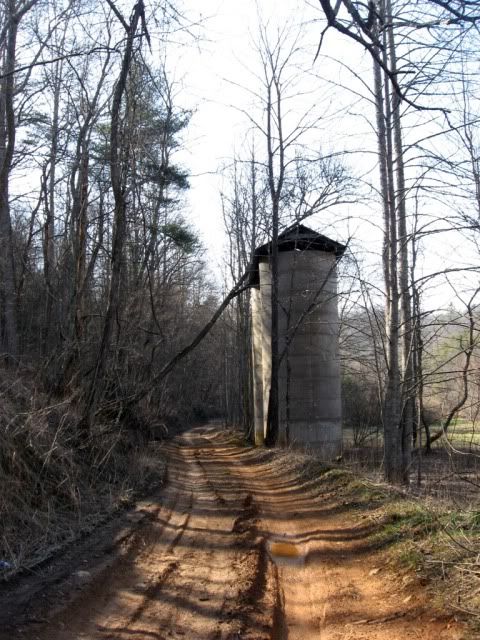 Two old silos
The other day I went for one of those rides that just didn't go the way that I thought it would. I was trying to ride the
Canada Creek loop
between Dahlonega and Suches. I was following along in
Off the Beaten Track
, and everything was going great until I had to find the "hidden singletrack surprise." After riding back and forth for a while, I eventually picked up the old road-turned-trail, and followed it for about a half of mile. And then it just ended. In the woods. In the middle of nowhere.
Yes, it just ended. There was a field off to the left, so I spent a while wandering around the edge of the field looking for any semblance of road. Then, I headed back up in the woods and started working my way out in concentric circles, looking for a remnant of trail.
I used to pride myself in my trail finding skills, but I could not find
anything
. Well, there were several times when I
thought
I might have picked up a trail of some sort. But it would lead nowhere.
There may have been a trail there even as recently as last fall, but the leaves hadn't been ridden in, and there was so much dead fall in the area that if there was a trail, it could have been completely hidden under last fall's leaves and this winter's dead branches and trees.
After hiking around for about 30-45 minutes, I decided to turn around and head back. I really didn't want to retrace my steps, because it would be mostly climbing the 10 miles back to my car, and if I could have found the trail it would have been a quick 4-5 miles back.
In the end, my quick 1 1/2 hour 15 mile ride turned into about a 2 1/2 - 3 hour 23 mile epic.
Hey, it was a good work out though!